COSTUMIZED SOLUTIONS AND CONTRACT
The knowledge of our engineers is available to realize drafting, customized products, giving all the advices required, starting from the prototype to the single or mass produced, finished product.
Maximum aesthetical and functional reliability is given by our newest machines, which are the product of a distant evolution in quality.
We have participated at the realization of shops and exhibition spaces for: Armani, Marina Rinaldi, Piazza Italia, Chanel, Meltin Pot, Michael Kors, Prada, Billionaire, TecnoGym, Messaggero, and others.
We have also collaborated at the realization of contracts such as: Boscolo Hotel, Hotel Trampolines and more.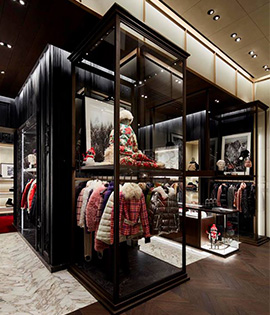 Realizzazioni
Alcuni esempi delle nostre collaborazioni